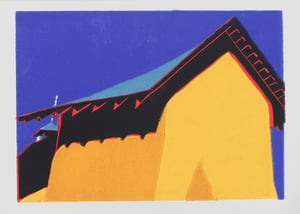 $

75.00
This print is a lino cut print of the Chapel of Santa Cruz in Ojo Caliente, NM
1 0f 3 color versions of the beautiful church. Image is 5x7" on 7x10" stock
I have been painting and printmaking for over 30 years. I have had more than 30 solo shows and numerous group shows. I currently show with the George Billis Gallery in NY and with the David Klein Gallery in Birmingham MI.
and the Blue Rain Gallery in Santa fe, NM
My work is in over thirty corporate and museum collections and in hundreds of private collections. I live and work with my artist wife, Janet Hamrick and our two studio cats, Artie and Bella, in Ferndale, Michigan. We also have been subletting a painting loft in New York City for more than 10 years. We have been painting in the Taos area for the last few years.