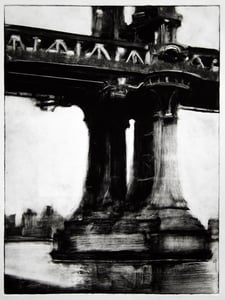 $

195.00
Original monotype
Image size - 12 x 9"
This is an original, one of a kind monotype print of Manhattan Bridge. It is printed with Faust black oil based ink on white Rives paper.
My monotype prints are made by inking a plexiglass plate with a roller, then drawing into it and wiping off some of the ink to leave a design. Damp paper is then place on the plate and this is put through the press. The ink is transferred from the plate to the paper, so only one print can be made.
This print is presented in a board backed clear protective sleeve and packed carefully in a padded envelope with extra card for strength.
It is unmounted and unframed. It is numbered 1/1 and initialled on the front, and signed and dated on the back.