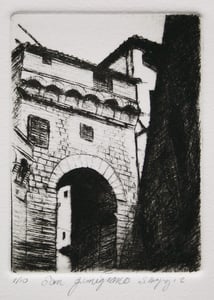 $

60.00
Drypoint on BFK Rives Paper, 2011, 4x3" on 8x6" Paper"
Edition of 10 and 3 Artists proofs
This landscape print is a view of Arco dei Becci e Cugnanesi in the ancient city of San Gimignano This drypoint print is #1/10 from a copper plate and Faust Sepia ink on BFK Rives paper hand pulled by me. Each print is slightly different, this is the actual image.
Print will be matted to 10x8" ready to frame.