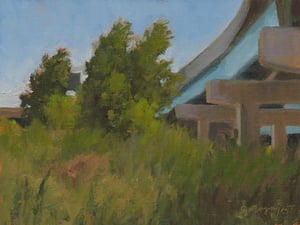 $

100.00 - On Sale
This plein air urban landscape painting is a view of trees blowing in the wind next to an overpass.
It was such a beautiful day to paint outdoors.
For my regular clients. This is on a light weight plein air panel, not the thick slotted panel, same linen surface.
This 2015 painting is 6x8", signed and dated. The buyer will receive the painting safely packaged and ready to frame.
Stephen Magsig lives and paints in Ferndale, Michigan.
I have been painting for over 30 years, and have been in more than 30 solo shows and numerous group shows.
My work is in more than 25 corporate and museum collections, and in hundreds of private collections, around the World.
I currently show with the George Billis Gallery in NY and LA.
and with the David Klein Gallery in Birmingham MI