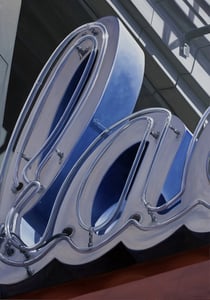 $

7,500.00
Hi, you are viewing my original painting "Palace, LA, detail", done with oils on linen canvas. This 2006 painting is 60"x42" signed, titled, and dated
This painting is an LA urban landscape view of a detail of the downtown LA, Palace theatre neon sign in the Los Angeles' Broadway Historic Theatre District.
Provenance:This painting was shown in the Architectural+ Industrial realism exhibition at the Washington County Museum of Fine Arts, Hagerstown, MD. Collection of the artist

Please contact me if you have questions.