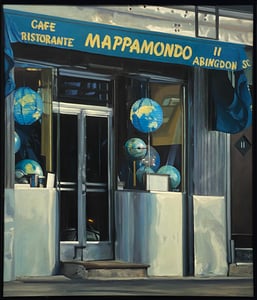 $

5,000.00
Hi , you are viewing my original painting "Mappamondo", done in oils on oil primed linen canvas. This 1998 painting is 42x36" framed, signed, titled, and dated
This dramatic painting is a view of a storefront restaurant in the West Village, NY.
Please contact me to discuss price if you are interested.
Provenance shown at the George Billis Gallery, NY,
currently in the collection of the artist.
I am clearing out space in my studio and offering some paintings at a deep discount
I have been painting for over 30 years. I have had more than 30 solo shows and numerous group shows. I currently show with the George Billis Gallery in Westport, CT and with the David Klein Gallery in Birmingham MI.
My work is in over 30 corporate and museum collections and in hundreds of private collections.
I live and work with my artist wife, Janet Hamrick and our two studio cats, Lockie and Bella, in Ferndale, Michigan. We also have been subletting a painting loft in New York City for more than 10 years.